Over the years, I have furnished the windows of dozens and dozens of homes. I measure, quote and project manage through to installation. I have wonderful suppliers - for fabric, materials and fittings - and of blinds and shutters. And I have wonderful curtain makers in Wellington, Christchurch and Auckland. 
---
Functional, Beautiful and Personal
Window furnishings are one of the hardest working functional items in a room: they filter the sun, add warmth, allow us to sleep, and provide privacy. 
Window furnishings should always make a room more beautiful too, as they can add texture, softness, colour and pattern.
They are also key to creating personal style in a room - reflecting the owners who live there.
These curtains hang in the main window of my own family home. The rich velvet is lined and includes bumph for extra warmth - and are hand sewn at the edges for a higher-end finish. Sheer curtains hang behind on a back rod to provide privacy when required, and also to add interest to the appearance of the house from the street.   The contemporary New York Pleat stacks back as small as possible, which is important due to the limited wall area on one side of the window.
---
Fit for purpose
When I work with a client, I will first select the window treatment that is going to make the room  function well.
If it's warmth that's required, this will often be lined curtains or roman blinds - potentially with bumph for extra warmth. Or it might be shutters or honeycomb shades. 
To filter the sun or add privacy, I will often add sheer curtains or light filtering rollershades, venetian or honeycomb blinds, or shutters.
Often I will automate the window treatments, for ease of use and efficiency.
The treatment I select is regularly a matter of how large the room is and the room's use – if it's a child's small bedroom a roman blind may be better than curtains, as there will be less bulky fabric taking up valuable space.
In a living room, curtains may be needed to add softness and texture.
In a bathroom, I might select venetian blinds or shutters that withstand moisture.
In an entranceway, it may be venetian blinds for privacy or even curtains. 
In main bedrooms, I often use sheer curtains on a front track, and block-out linings behind - as I did  in this room. This solution offers privacy for getting dressed, and darkness and insulation at night. Note the roman blinds include a band of colour to pick up on the sheer fabric colour and wall colour.    
Beautiful and Personal
Window treatments are one of the most wonderful ways to add style, softness, or pattern - or just to bring a room alive with colour. I work directly with NZ suppliers to source fabrics and materials – and for access to international and local brands. I keep up-to-date with new releases and work with a large variety of clients with different styles. So I am well-used to selecting fabrics from contemporary  through to traditional.  
Often, the window furnishings in a room can be the hero. I particularly like to do this in a guest room, where there often isn't a lot of pattern or personality.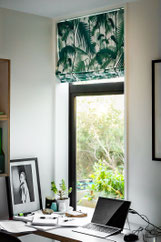 In this home - the office of a client - the roman blind fabric we chose adds beautiful personal style to an otherwise neutral room.
---
---
Window treatments
Roller Shades have a minimalist look and feel. The fabric can either be blackout or light filtering - to control light and privacy. They lay flat when open.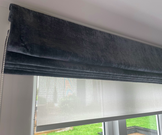 In my home office I have a light-filtering roller shade hidden behind a roman blind. The rollershade disappears when it is raised. When lowered, it provides privacy . The Roman Blind keeps in the warmth at night. The fabric I chose for the rollershade is a linen-look – I live in a 1913 home, and so this  works well. 
---
Roman blinds provide the softness of drapery with the functionality of shades. They fold and stack back neatly. They're great for a smaller room, and often used on the smaller windows in the same room as curtains.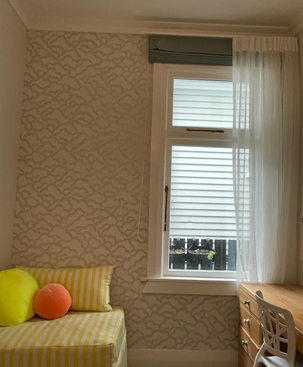 In this bedroom, I installed a Roman Blind on a Rod behind a sheer curtain. This blind is thermal and blackout so offers complete darkness. Neighbours walk past this window, so the sheers provide privacy. The room is small and narrow, so lined curtains would have been too bulky. The sheer fabric is feminine and adds softness to the room.    
---
Honeycomb Shades are a series of expanding pleats. They have a crisp, clean look and help to control light and privacy. They also offer good insulation/warmth, and add great texture. They can be blackout or filter the light. They look crisp from the outside of the house too. 
I have installed honeycomb shades in my own family living room. There is a public footpath right outside these two windows, and so the shades provide privacy when required while still letting light through. One of these shades abuts a kitchen bench, so it was a practical solution too.  And these shades are beautiful - the fabric is a little like linen in appearance. They also look great from the exterior, as they create a repetitious linear look.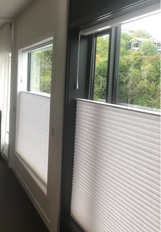 In the dressing room for another client, I used automated Honeycombs blinds that open Top Down. They provide privacy at the bottom section of the window and allow the view to be enjoyed at the top of the window. 
---
Curtains can be lined (for insulation and complete darkness), or made from sheer fabric (to allow light through and for privacy). I almost always hang curtains from ceiling height (or just beneath the cornice) to visually enlarge a room, and I will either have the curtains just brush the floor or puddle 20mm. 
I select a curtain pleat to reflect the style of the architecture of the house and owner's personal style. This can be a tailored, contemporary pleat such as an inverted pleat which hides the stitching. A wave pleat uses less fabric and is a contemporary option. A french pleat (single, double or triple pinch) is an example of a more traditional style. 
These beautiful 100% linen curtains adorn a seperate lounge in my own home.  They hang from ceiling height and  puddle 20mm on the floor creating a luxurious look and accentuating the 3m-high ceilings.  
---
Shutters are wonderful for their ability to look great inside and out. They control sun, and provide privacy and warmth. I have used them in older homes, and homes with triangular windows, and in modern homes where the style called for it.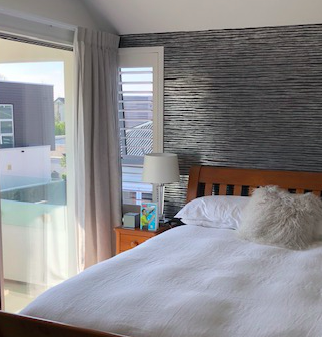 In this bedroom, the shutters provide much-needed darkness for my client who  often sleeps during the day due to her work . Roman blinds  on each side of the bed would have let in a slither of light. 
---
Venetian Blinds are often a good choice for  bathrooms and toilets. They can be aluminium or wooden, and in various colours or natural. They add much-needed interest to these rooms - as well as privacy. I also use them occasionally for contemporary homes to cover floor to ceiling glazing at front doors.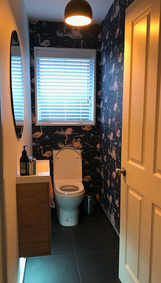 In this client's toilet and adjacent bathroom, I installed a faux-wood white venetian to cover what was a very functional (but un-beautiful) privacy glass window. Venetians in bathroom are wonderful for hiding ugly privacy glass.   
---
Contact Heidi at The Room Editor if you'd like help furnishing your windows. heidi@theroomeditor.co.nz. Phone 021 026 30012
---